Body Contouring by Wave Plastic Surgery & Aesthetic Laser Center
---
Why do patients seek Body Contouring Surgery after Major Weight Loss?
A significant loss of weight loss, while it may be a moral victory of sorts, brings with it other, sometimes unanticipated, issues. There can be significant sagging and redundancy of the skin in areas where the former excess volume of fat and soft tissue has been lost.
This occurs because the skin and soft tissues had been gradually stretched over many years to conform to the increased volume represented by the excess body weight. When this excess body weight is lost due to diet and exercise, and sometimes with the help of bariatric surgery, the overall size and shape of the body shrinks, but the skin and soft tissues no longer possess the elasticity to re-conform to the new smaller size and shape of the body. This results in a mismatch of skin and soft tissues versus the new surface area of the post-weight-loss body frame, much like having a king size sheet to cover a double bed.
+

There are numerous details in performing a meticulous Body Contouring to ensures beautiful result:
What Is Body Contouring Surgery?
There are specific areas of the body where we can reliably expect these issues to appear after significant weight loss. The following is a brief list of the areas most commonly affected by massive weight loss and the procedures that can be employed to address these issues.
In the groin region there is frequently a hanging apron of redundant skin. The buttocks can sag dramatically after massive weight loss. The thighs often exhibit redundant skin on the medial aspect of the legs, and these can rub and chafe with walking, while excess fat and redundant skin can also hang from the lateral thigh and saddlebag areas. Most frequently, massive weight loss patients have a large abdominal pannus, or apron of redundant abdominal skin and soft tissue that hangs down from the lower abdomen. This excess of skin and soft tissue often continues around to the flanks on both sides and onto the lower back. A procedure called a lower body lift can simultaneously address the redundant skin and soft tissue of the abdomen, flanks, lower back, pubic area, and the lateral thighs. This usually involves a circumferential incision around the abdomen that allows the removal of a continuous segment of the excess skin and soft tissue in a circular fashion.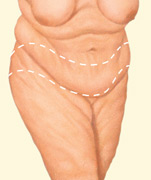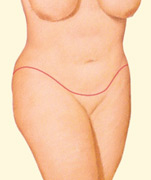 The sagging skin and soft tissues of the medial or inner thigh can be addressed in a separate procedure called a medial thigh lift. The incisions for this procedure typically begin in the groin and extend along the medial (inside) aspect of the leg to just above the knee. If a lower body lift has not been performed, and there is redundant, sagging skin of the lateral (outer) thigh, a separate lateral thigh lift can be performed. The incisions for this procedure begin in the pubic area and extend around the hip, allowing redundant skin and soft tissue to be excised, and the contour of the lateral thigh to be made tighter and smoother.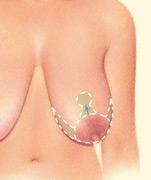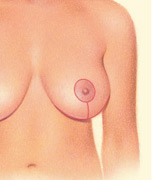 Massive weight loss may also produce a "bat wing deformity", in which the upper arms become deflated in volume, leaving the remaining skin and soft tissues to hang down below the arms when they are extended. The surgery that corrects this problem is a brachioplasty or arm lift. The incisions for a brachioplasty typically begin inside the axilla (armpit),extend along the medial (inside) or posterior (back) of the arm, and end just above the elbow. Brachioplasty can deliver a dramatic change in the overall shape of the arm, as well as improving the smoothness and tightness of the skin.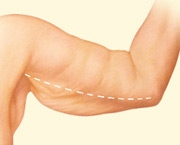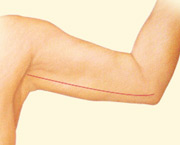 Finally, the breasts after massive weight loss can lose volume and elasticity so that the remaining breast tissue becomes flat and ptotic, or droopy, while enveloped by redundant skin. This can be treated with a procedure called a mastopexy or breast lift. The most common pattern of incisions for this surgery is that of an inverted T, in which there is a circular incision around the nipple-areolar complex, a vertical incision extending from the 6:00 position of this circumareolar incision to the center of the inframammary fold, and then, from this point, a horizontal line extending medially and laterally along the inframammary fold. Usually the mastopexy is performed with the concomitant placement of a breast implant, or the redeployment of a portion of the redundant soft tissue, to replace some of the breast volume that has been lost as well as improve the overall breast shape.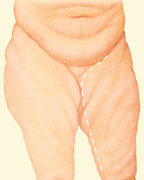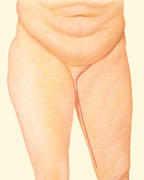 Frequently, patients will have several of the problems listed above coexisting after massive weight loss. In these circumstances, various combinations of procedures can be performed in stages to systematically address the effects of the weight loss on different parts of the body.
An important requirement for body contouring surgery is that the patient's weight has stabilized for a period of time after the weight loss. In a sense, body contouring can be thought of as the final stage in this process of weight loss. As long as the patient maintains her weight,the dramatic postoperative changes in the shape and appearance of the patient's body after body contouring surgery will remain long lasting.
+

More from American Society of Plastic Surgeons
What is Body Contouring?
Body contouring after major weight loss improves the shape and tone of your underlying tissue that supports fat and skin and removes excess sagging fat and skin.
Enhancing your appearance with body contouring surgery/h4>
Following weight reduction surgery, or any substantial amount of weight loss, the skin and tissues often lack elasticity and cannot conform to the reduced body size. As a result, skin that has been severely stretched now is unsupported:
Upper arms may sag and appear loose and full
Breasts may flatten and hang with nipples pointed downward
Abdominal area may extend around the sides and into the lower back area, resulting in an apron-like overhang
Buttocks, groin and thighs can sag and cause hanging pockets of skin
Surgical body contouring following major weight loss improves the shape and tone of your underlying tissue that supports fat and skin, and removes excess sagging fat and skin.
The result is a more normal appearance to the body, with smoother contours. This is, in essence, the final phase of your total weight loss experience
Is it right for me?
Before you decide to undergo body contouring following major weight loss, your weight loss must be stabilized.
If you continue to lose weight, sagging pockets will redevelop.
If you rapidly regain the weight, you will traumatically stress your already weakened and thinned skin, causing further stress to the skin, visible stretch marks and wide scars.
If you had weight reduction surgery, your plastic surgeon will work closely with your physician to determine when it is appropriate for you to begin body contouring.
Good candidates for body contouring are:
Adults of any age whose weight loss has stabilized
Healthy individuals who do not have medical conditions that can impair healing or increase risk of surgery
Non-smokers
Individuals with a positive outlook and realistic goals for what body contouring can accomplish
Individuals committed to leading a healthy lifestyle including proper nutrition and fitness
Choose a surgeon you can trust
Plastic surgery involves many choices. The first and most important is selecting a surgeon you can trust.
Choosing an ensures that you have selected a physician who:
Has completed at least five years of surgical training with a minimum of two years in plastic surgery.
Is trained and experienced in all plastic surgery procedures, including breast, body, face and reconstruction.
Operates only in accredited medical facilities.
Adheres to a strict code of ethics.
Fulfills continuing medical education requirements, including standards and innovations in patient safety.
Is board certified by The American Board of Plastic Surgery or in Canada by the Royal College of Physicians and Surgeons of Canada®.
ASPS Member Surgeons are your partners in cosmetic and reconstructive plastic surgery.
---
Back to top
Before & After Photos of Body Contouring
PHOTOS COMING SOON!
Contact us | Body Contouring
---
33% OFF on Lower Blepharoplasty
20% OFF on Upper Blepharoplasty
20% OFF on Asian Blepharoplasty
33% OFF on Asian Rhinoplasty
50% OFF on eCO2™ Fractional Laser
---