Body Lift by Wave Plastic Surgery & Aesthetic Laser Center
---
A Body Lift improves the shape and tone of the underlying tissue that supports fat and skin. Excess sagging fat and skin are removed to treat conditions caused in part by poor tissue elasticity. Also known as a lower body lift or belt lipectomy (so named because the incisions encircle the body like a belt), body lift surgery raises, firms, and tightens the skin of the thighs, buttocks, hips (flanks), groin, waist, and abdomen. Excess skin is removed and the surrounding tissue repositioned to create a more youthful and pleasing body contour.
Who Can Benefit From A Body Lift:
Body lifts are usually performed on those with large amounts of loose, hanging skin in multiple areas on the trunk and legs. Its goal is to return the body to a more normal appearance after loss of skin elasticity due to extreme weight loss or age-related changes. What a body lift cannot do is remove significant fat deposits. Your weight should be stabilized at or near your ideal weight before considering a body lift. In cases where there are small local fat deposits but skin elasticity is poor, your surgeon may recommend a combination of liposuction and body lift surgery.
Recovery & Downtime :
Most patients can return to non-strenuous work after 2 to 3 weeks. Strenuous work or exercise should not be resumed until at least 4 to 6 weeks have passed. It is important that your incisions are not subjected to excessive force, abrasion, or motion during this time. As with all surgery, it is important to understand that these guidelines can vary widely based on the patient's personal health, the techniques used, and other variable factors surrounding the surgery.
No Hidden Cost!


At most of the clinics/hospitals, they would tell you the basic cost with lots of hidden costs when you inquire the cost of Body Lift. We do NOT charge additional fees like other Plastic Surgery clinics/hospitals such as "Anesthesia fee", "Operating Room fee", "Hospital fee", "Recovery Room fee", "Follow-up Treatments fee", etc. It's ALL-INCLUSIVE at Wave Plastic Surgery & Aesthetic Laser Center.


Contact us for a FREE consultation with one of our Board Certified Plastic Surgeons.
+

Body Lift procedure steps
Step 1 - Anesthesia
Medications are administered for your comfort during the surgical procedures. The choices include intravenous sedation and general anesthesia. Your doctor will recommend the best choice for you.
Step 2 - The incision
Incision length and pattern depend on the amount and location of excess skin to be removed, as well as personal preference and surgical judgment.
A complete lower body lift treats the buttocks, abdomen, waist, hips and thighs in one procedure. A circumferential incision around the body removes an apron of excess skin and fat and repositions and tightens tissues.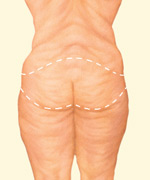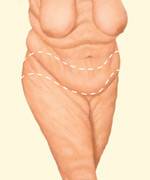 A combination of liposuction and surgical body lifts may be necessary to achieve an improved contour. Deep support sutures within underlying tissues help to form the newly shaped contours.
Step 3 - Closing the incisions
Sutures, skin adhesives or tapes close the skin incisions.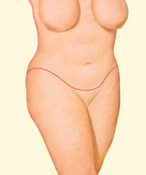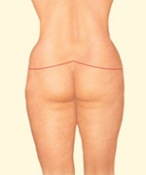 Step 4 - See the results
The results of a body lift are visible almost immediately. It may take as long as one to two years for the final results to fully develop.
Information & images are courtesy of ASPS®
+

More from American Society of Plastic Surgeons
What is a Body Lift?
A body lift improves the shape and tone of the underlying tissue that supports fat and skin. Excess sagging fat and skin are removed to treat conditions caused in part by poor tissue elasticity.
Enhancing your appearance with a body lift
A well-toned body with smooth contours often is a sign of fitness achieved by healthy diet and exercise.
But exercise cannot always achieve desired results for people who have loose, sagging skin and uneven contours. Aging, sun damage, pregnancy and significant fluctuations in weight as well as genetic factors may contribute to poor tissue elasticity and can result in sagging of the abdomen, buttocks, thighs and upper arms.
If you desire a firmer, more youthful-looking body contour, then a surgical body lift may help achieve your goals. It improves the shape and tone of the underlying tissue that supports fat and skin.
Excess sagging fat and skin are removed to treat conditions caused in part by poor tissue elasticity. In addition, the procedure(s) can improve a dimpled, irregular skin surface, commonly known as cellulite.
A body lift may include these areas:
Abdominal area, locally or extending around the sides and into the lower back area
Buttocks, that may be low, flat or shaped unevenly
Groin that may sag into the inner thigh
Thigh, including the inner, outer, or posterior thigh, or circumferentially
What it won't do:
Body lifts are not intended strictly for the removal of excess fat. Liposuction alone can remove excess fat deposits where skin has good elasticity and is able to naturally conform to new body contours. In cases where skin elasticity is poor, a combination of liposuction and body lift techniques may be recommended.
Is it right for me?
In general, candidates for an body lift include:
Body Lift may be a good option for you if:
Adults with significant upper body skin laxity
Adults of any age whose weight is relatively stable and who are not significantly overweight
Healthy individuals who do not have medical conditions that can impair healing or increase risk of surgery
Non-smokers
Individuals with a positive outlook and realistic expectations
Choose a surgeon you can trust
Plastic surgery involves many choices. The first and most important is selecting a surgeon you can trust.
Choosing an ensures that you have selected a physician who:
Has completed at least five years of surgical training with a minimum of two years in plastic surgery.
Is trained and experienced in all plastic surgery procedures, including breast, body, face and reconstruction.
Operates only in accredited medical facilities.
Adheres to a strict code of ethics.
Fulfills continuing medical education requirements, including standards and innovations in patient safety.
Is board certified by The American Board of Plastic Surgery or in Canada by the Royal College of Physicians and Surgeons of Canada®.
ASPS Member Surgeons are your partners in cosmetic and reconstructive plastic surgery.
---
Back to top
Before & After Photos of Body Lift

PHOTOS COMING SOON!
Contact WAVE Cosmetic & Reconstructive Plastic Surgery Center
| | | | | | |
| --- | --- | --- | --- | --- | --- |
| | | | | | |