Thigh Lift (Thighplasty) by Wave Plastic Surgery & Aesthetic Laser Center
---
A thigh lift reshapes the thighs by reducing excess skin, and in some cases fat, resulting in smoother skin and better-proportioned contours of the thighs and lower body.
A Thigh Lift (Thighplasty) reduces excess skin and fat in the thigh and knee area, resulting in redefined, slim and taut thighs. Both men and women who have saggy, flabby and/or dimpled loose tissue and skin on their thighs may be candidates for this body contouring procedure.
Many people who have lost weight due to bariatric surgery may also benefit from thigh lifts to get rid of the excess fat and flab in this area. The thigh lift is usually performed on the inner surface of the thighs but can include the outer thigh area and buttock if indicated. Thigh lift surgery can also be performed in conjunction with other procedures such as a body lift or liposuction.
No Hidden Cost!


At most of the clinics/hospitals, they would tell you the basic cost with lots of hidden costs when you inquire the cost of Thigh Lift (Thighplasty). We do NOT charge additional fees like other Plastic Surgery clinics/hospitals such as "Anesthesia fee", "Operating Room fee", "Hospital fee", "Recovery Room fee", "Follow-up Treatments fee", etc. It's ALL-INCLUSIVE at Wave Plastic Surgery & Aesthetic Laser Center.


Contact us for a FREE consultation with one of our Board Certified Plastic Surgeons.
+

Thigh Lift procedure steps
Step 1 – Anesthesia
Medications are administered for your comfort during the surgical procedures. The choices include intravenous sedation and general anesthesia. Your doctor will recommend the best choice for you.
Step 2 – The incision
Incision patterns vary based on the area or areas to be treated, degree of correction and patient and surgeon preference.
One common technique used for a thigh lift places incisions in the groin, extending downward wrapping around the back of the thigh. The underlying tissue matrix will be reshaped and tightened, and skin will be reduced and redraped resulting in more proportionate and smoother body contours.
You may qualify for a minimal incision medial thigh lift which involves an incision only in the groin area. Your surgeon will determine what's appropriate.
Medial Thigh Lift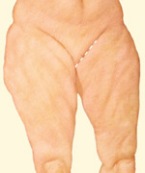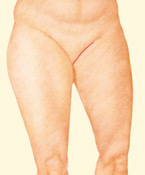 Improving the contours of the outer thigh may require an incision extending from the groin around the hip.
Through these incisions your plastic surgeon will tighten tissues for a smoother, better-toned lower body contour.
Advanced techniques usually allow incisions to be placed in strategic locations where they can be hidden by most types of clothing and swimsuits. However, incisions may be extensive.
Outer Thigh Lift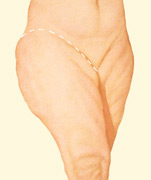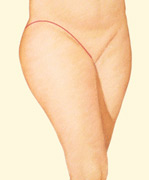 Step 3 – Closing the incisions
Deep support sutures within underlying tissues help to form the newly shaped contours. Sutures close the skin incisions.
Step 4 – See the results
The smoother tighter contouring that result from a thigh lift are apparent almost immediately, although initially obscured by some swelling and bruising.
You may be required to wear a compression garment for several weeks following your procedure to minimize swelling and support the tissues as they heal.
Following a thigh lift, skin quality is dramatically improved both in appearance and feel.
Information & images are courtesy of ASPS®
+

More from American Society of Plastic Surgeons
What is a Thigh Lift?
A thigh lift reshapes the thighs by reducing excess skin, and in some cases fat, resulting in smoother skin and better-proportioned contours of the thighs and lower body.
Enhancing your appearance with a thigh lift
If fitness and weight loss efforts have not achieved your goals for a body that is firmer, more youthful-looking and more proportionate to your overall body image, a surgical thigh lift may be right for you.
This surgery reshapes the thighs by reducing excess skin, and in some cases fat, resulting in smoother skin and better-proportioned contours of the thighs and lower body.
Is it right for me?
Candidates for thigh lift are:
People whose weight is relatively stable
Individuals with excess soft tissue along the inner or medial thigh region and/or the outer thigh
Healthy individuals who do not have medical conditions that can impair healing or increase risk of surgery
Non-smokers
Individuals with a positive outlook and realistic goals for what thigh lift surgery can accomplish
Individuals committed to leading a healthy lifestyle including proper nutrition and fitness
What it won't do: Thigh lifts are not intended strictly for the removal of excess fat. Liposuction alone can remove excess fat deposits where skin has good elasticity and is able to naturally conform to new body contours. In cases where skin elasticity is poor, a combination of liposuction and thigh lift techniques may be recommended.
Choose a surgeon you can trust
Plastic surgery involves many choices. The first and most important is selecting a surgeon you can trust.
Choosing an ensures that you have selected a physician who:
Has completed at least five years of surgical training with a minimum of two years in plastic surgery.
Is trained and experienced in all plastic surgery procedures, including breast, body, face and reconstruction.
Operates only in accredited medical facilities.
Adheres to a strict code of ethics.
Fulfills continuing medical education requirements, including standards and innovations in patient safety.
Is board certified by The American Board of Plastic Surgery or in Canada by the Royal College of Physicians and Surgeons of Canada®.
ASPS Member Surgeons are your partners in cosmetic and reconstructive plastic surgery.
---
Back to top
Before & After Thigh Lift (Thighplasty)

PHOTOS COMING SOON!
Contact WAVE Cosmetic & Reconstructive Plastic Surgery Center
| | | | | | |
| --- | --- | --- | --- | --- | --- |
| | | | | | |