Breast Augmentation (Augmentation Mammaplasty) by Wave Plastic Surgery
---
Breast augmentation in most women are done to reshape their body. There are several reasons such as lack of breast tissue development, alterations in body shape after pregnancy or weight loss, asymmetry of their breasts due to congenital reasons, or after breast cancer surgery. This procedure is ideal not only in restoring normal anatomy but also more importantly improving self image and self confidence. The goal of breast surgery is to restore their natural breast volume and shape.
There are different FDA approved implant types and incision techniques for patients. During the consultation, the right implant type and incision and as well as the placement of implant can be discussed to suit each individual patients.
After breast augmentation, it is often possible to return to work within a few days to a week, depending on the type of activities that are required at your job. Special surgical techniques and post operative care instructions are given to minimize complications like bleeding, asymmetry, infections, and capsular contractures. At WAVE plastic surgery, we provide a special protocol to further minimize capsular contracture.
| | | | | |
| --- | --- | --- | --- | --- |
| &nbsp | Satisfaction that lasts | &nbsp | Breast Implant Simulator | &nbsp |
No Hidden Cost!


At most of the clinics/hospitals, they would tell you the basic cost with lots of hidden costs when you inquire the cost of Breast Augmentation (Breast Implants). We do NOT charge additional fees like other Plastic Surgery clinics/hospitals such as "Anesthesia fee", "Operating Room fee", "Hospital fee", "Recovery Room fee", "Follow-up Treatments fee", etc. It's ALL-INCLUSIVE at Wave Plastic Surgery & Aesthetic Laser Center.
Contact us for a FREE Breast Augmentation consultation with the Top Female Plastic Surgeon, Goretti Ho, MD.
| | | |
| --- | --- | --- |
| | | |
| Natrelle® Round Gel Certified | Natrelle® Certified | Natrelle® 410 Shaped Gel Certified |
+

Saline or Silicone, which Type of Implant Will you Choose?
Your First Choice, Choosing to have Breast Augmentation
Breast Augmentation is technically known as augmentation mammoplasty. This surgical procedure is performed using breast implants to enhance the size and shape of your profile. Women choose Breast Augmentation for many varied and personal reasons. The most common reasons for Breast Augmentation include:
Enhancing breast size when women feel that their breasts are too small or not in proportion with their overall body contour
Achieving a more proportionate breast symmetry in size and contour
Restoring breast volume and firmness for women after weight loss, pregnancy, or breastfeeding
Improving breast shapes for women that have sagging or have lost skin elasticity (a reason that frequently involves breast lift surgery, too)
Of course, every woman's reasons are entirely personal. And once you know that Breast Augmentation is right for you, a consultation with one of WAVE's Board Certified Plastic Surgeons will help you choose the right breast implant to accomplish your goal of an ideal profile.
About Your Breast Augmentation Surgery
Surgery planning begins with an overall evaluation to ensure you are healthy enough. The evaluation minimizes possible surgical risks. A complete history of all health disorders, medications, and allergies will be considered in pre-operative screening prior to surgery. WAVE's Board Certified Plastic Surgeons will collaborate with your primary care provider for any additional information. Blood testing and a baseline mammogram for women over the age of 35 or those with a family history of breast cancer may be recommended prior to any breast surgery. It is important to recognize that similar to other medical devices, breast implants - saline or silicone gel - are not lifetime devices. It is possible that at some point in your life they will need to be removed or replaced, and you should talk to WAVE's Board Certified Plastic Surgeons about this prior to surgery.
Pre-Operative Preparation
WAVE's Board Certified Plastic Surgeons will discuss the procedure in detail with you during your pre-operative consultation. This discussion should include an explanation of the surgical procedure, risk and possible complications associated with the surgery, and what to expect after surgery. Possible post-operative side effects, pain management, and pain medications should also be discussed as part of your preparation for surgery. You will be asked to sign consent forms to ensure and confirm that you fully understand the procedure and any risks and potential complications associated with your surgery. WAVE's Board Certified Plastic Surgeons may schedule surgery several days or weeks from the time of your consultation to ensure you have had enough time to understand and accept all aspects of the consent form. If you require further explanation, it is important to share your questions and concerns with WAVE's Board Certified Plastic Surgeons, to ensure a truly "informed consent".
The breast aesthetic surgery consultation with WAVE's Board Certified Plastic Surgeons will also include an evaluation of what would be the right breast implant size, placement and incision site for you based on your personal goals for surgery, and a thorough and realistic review of your expectations. Guidelines for eating, drinking, smoking, medications, and exercise before and after surgery will also be reviewed.
Incision Sites for Breast Implant Placement
Breast tissue, body type and implant type and size will all be considered before you and WAVE's Board Certified Plastic Surgeons finalize a surgical plan. This is an overview of the most common incision choices doctors can offer.
Inframammary Incision
An inframammary incision is placed in the fold beneath your breast. This location can accommodate every size and shape of implant, is often concealed, and is known for fast recovery times. An inframammary incision gives WAVE's Board Certified Plastic Surgeons the most precise access to where your breast implant will sit after surgery.
Periareolar Incision
The periareolar incision is performed on the border of the dark skin around your nipple. It is known to have fast recovery times, but does not accommodate every size and shape of implant.
Transaxillary Incision
A transaxillary incision is well concealed in the armpit and more removed from the breast area, so it is less noticeable. Recovery times are a bit longer and not all implant sizes and shapes can be accommodated.
Natrelle® silicone gel-filled breast implants have experienced acceptance for more than 25 years in over 60 countries.
They were approved by the Food and Drug Administration (FDA) for use in the US in November 2006.
A Gel-filled breast implant has an elastic silicone rubber shell and is filled with cohesive silicone gel.
The safety of Natrelle® silicone gel-filled breast implants meet one of the most rigorous standards of all medical devices.
Saline-filled breast implants were approved by the FDA in May 2000.
A Saline-filled breast implant has an elastic silicone rubber shell and is filled with sterile saline (saltwater).
Information & images are courtesy of NATRELLE®
+
Watch Breast Augmentation w/ Saline Implants in 3D Animation
The primary purpose of the 3D animation is for educational purpose only.
+

Breast Augmentation procedure steps
Step 1 - Anesthesia
Medications are administered for your comfort during breast augmentation surgery. The choices include intravenous sedation and general anesthesia. Your doctor will recommend the best choice for you.
Step 2 - The incision
Incisions are made in inconspicuous areas to minimize visible scarring. You and your plastic surgeon will discuss which incision options are appropriate for your desired outcome. Incision options include:
Inframammary incision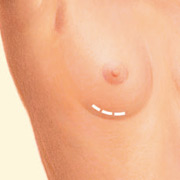 Transaxillary incision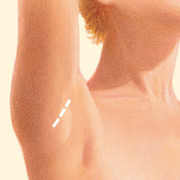 Periareolar incision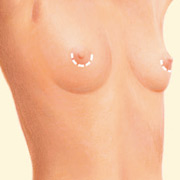 Incisions vary based on the type of implant, degree of enlargement desired, your particular anatomy, and patient-surgeon preference.
Step 3 - Implant choice: Silicone breast implants or saline breast implants?
Breast size and shape are important, so be honest and open about your expectations when talking with your surgeon.
Implant type and size will be determined not just on your desired increase in size but more importantly on your breast anatomy, skin elasticity and body type.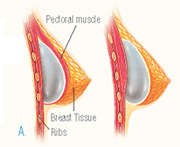 Step 4 - Inserting and placing the breast implant
After the incision is made, a breast implant is inserted into a pocket either:
Under the pectoral muscle (a submuscular placement), or
Directly behind the breast tissue, over the pectoral muscle (a submammary/ subglandular placement)
The method for inserting and positioning implants depends on the type of implant, degree of enlargement desired, your body type, and your surgeon's recommendations.
Step 5 - Closing the incisions
Incisions are closed with layered sutures in the breast tissue and with sutures, skin adhesive or surgical tape to close the skin. Over time the incision lines will fade.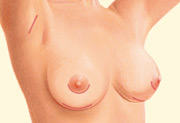 Step 6 - See the results
The results of breast augmentation surgery are immediately visible. Over time, post-surgical swelling will resolve and incision lines will fade. Satisfaction with your new image should continue to grow as you recover and realize the fulfillment of your goal for fuller breasts.
Information & images are courtesy of ASPS®
+

More from American Society of Plastic Surgeons
What is Breast Augmentation?
Also known as augmentation mammaplasty, the procedure involves using implants to fulfill your desire for fuller breasts or to restore breast volume lost after weight reduction or pregnancy. Implants also may be used to reconstruct a breast after mastectomy or injury.
If you are dissatisfied with your breast size, breast augmentation surgery (either breast enhancement or breast enlargement) is a choice to consider. Breast augmentation can:
Increase fullness and projection of your breasts
Improve the balance of your figure
Enhance your self-image and self-confidence
What Breast Augmentation won't do:
Breast augmentation does not correct severely drooping breasts. If you want your breasts to look fuller and to be lifted due to sagging, a breast lift may be required in conjunction with breast augmentation.
Breast lifting can often be done at the same time as your augmentation or may require a separate operation. Your plastic surgeon will assist you in making this decision.
Is it right for me?
Breast augmentation is a highly individualized procedure and you should do it for yourself, not to fulfill someone else's desires or to try to fit any sort of ideal image. Pictures of breast augmentation procedures performed by ASPS Member Surgeons may help you in the decision-making process.
Breast Augmentation may be a good option for you if:
You are physically healthy
You have realistic expectations
Your breasts are fully developed
You are bothered by the feeling that your breasts are too small
You are dissatisfied with your breasts losing shape and volume after pregnancy, weight loss, or with aging
Your breasts vary in size or shape
One or both breasts failed to develop normally
Choose a surgeon you can trust
Plastic surgery involves many choices. The first and most important is selecting a surgeon you can trust.
Choosing an ensures that you have selected a physician who:
Has completed at least five years of surgical training with a minimum of two years in plastic surgery.
Is trained and experienced in all plastic surgery procedures, including breast, body, face and reconstruction.
Operates only in accredited medical facilities.
Adheres to a strict code of ethics.
Fulfills continuing medical education requirements, including standards and innovations in patient safety.
Is board certified by The American Board of Plastic Surgery or in Canada by the Royal College of Physicians and Surgeons of Canada®.
ASPS Member Surgeons are your partners in cosmetic and reconstructive plastic surgery.
---
Back to top
Before & After Photos of Breast Augmentation (Augmentation Mammaplasty)
Contact WAVE Cosmetic & Reconstructive Plastic Surgery Center
| | | | | | |
| --- | --- | --- | --- | --- | --- |
| | | | | | |