Breast Lift (Mastopexy) by Wave Plastic Surgery & Aesthetic Laser Center
---
Often times, patients want more breast volume and improvement of drooping. A common patient is a woman that has had a baby. The loss of volume and subsequent drooping is called post-partum involution. These patients are candidates for augmentation mastopexy, or implants and a lift.
A breast lift is performed to elevate the nipple and areola to the correct position corresponding to the level of the breast fold. The amount or length of the lift scar is dependent on how much drooping is present. Smaller amounts of drooping will need smaller amounts of scar to left the present into a better position. More drooping means more scar. We will do the least amount of scar we feel necessary to get the breast into proper position. Scars around the nipple or vertically extending to the breast fold will soften,, flatten, mature and lighten over many months. Breast feeding is generally not affected by this procedure.
The best way to determine if you are a good candidate for augmentation mastopexy is to schedule a consultation. During a consultation, the procedure is explained in detail and all of your questions are answered. You will learn what reasonable expectations are given your particular anatomy and desires.
Mastopexy scar - Each person is unique and the way one person scars may be much different from the way another person may scar. Scar revision is performed after the body has had time to heal itself. (usually 1 year or so after the initial trauma) Stretched scar can be cut out and be replaced with new incision.
No Hidden Cost!


At most of the clinics/hospitals, they would tell you the basic cost with lots of hidden costs when you inquire the cost of Breast Lift Surgery. We do NOT charge additional fees like other Plastic Surgery clinics/hospitals such as "Anesthesia fee", "Operating Room fee", "Hospital fee", "Recovery Room fee", "Follow-up Treatments fee", etc. It's ALL-INCLUSIVE at Wave Plastic Surgery & Aesthetic Laser Center.
Contact us for a FREE Breast Augmentation consultation with the Top Female Plastic Surgeon, Goretti Ho, MD.
+

Breast Lift procedure steps
Your mastopexy surgery can be achieved through a variety of incision patterns and techniques. The appropriate technique for you will be determined based on:
Anesthesia
Medications are administered for your comfort during breast lift surgery. The choices include intravenous sedation and general anesthesia. Your doctor will recommend the best choice for you.
Step 2 - The incision
There are three common incision patterns:
Around the areola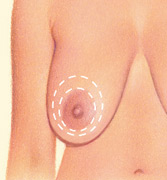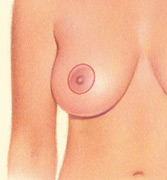 Around the areola and vertically down from the areola to the breast crease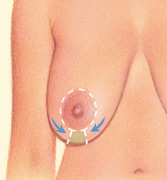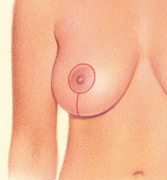 Around the areola, vertically down from the breast crease and horizontally along the breast crease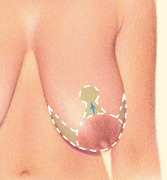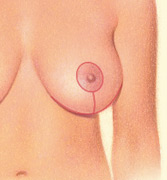 Step 3 - Reshaping your breasts
After your doctor makes the incisions:
The underlying breast tissue is lifted and reshaped to improve breast contour and firmness.
The nipple and areola are repositioned to a natural, more youthful height.
If necessary, enlarged areolas are reduced by excising skin at the perimeter.
Excess breast skin is removed to compensate for a loss of elasticity.
Step 4 - Closing the incisions
After your breasts are reshaped and excess skin is removed, the remaining skin is tightened as the incisions are closed.
Some incision lines resulting from breast lifts are concealed in the natural breast contours; however, others are visible on the breast surface. Incision lines are permanent, but in most cases will fade and significantly improve over time.
Sutures are layered deep within the breast tissue to create and support the newly shaped breasts. Sutures, skin adhesives and/or surgical tape may be used to close the skin.
Step 5 - See the results
The results of your breast lift surgery are immediately visible. Over time, post-surgical swelling will resolve and incision lines will fade.
Satisfaction with your new image should continue to grow as you recover and realize the fulfillment of your goal for breasts which have been restored to a more youthful and uplifted position.
Information & images are courtesy of ASPS®
+

More from American Society of Plastic Surgeons
What is Breast Lift?
Commonly referred to as a breast lift or boob lift, mastopexy surgery raises and firms the breasts by removing excess skin and tightening the surrounding tissue to reshape and support the new breast contour.
Enhancing your appearance with a breast lift
A woman's breasts often change over time, losing their youthful shape and firmness. These changes and loss of skin elasticity can result from:
Pregnancy
Breastfeeding
Weight fluctuations
Aging
Gravity
Heredity
Sometimes the areola becomes enlarged over time, and a breast lift will reduce this as well. A breast lift can rejuvenate your figure with a breast profile that is youthful and uplifted.
What Breast Lift won't do:
Breast lift surgery does not significantly change the size of your breasts or round out the upper part of your breast. If you want your breasts to look fuller, consider breast lift and augmentation surgery. If you want smaller breasts, consider combining breast lift and reduction surgery.
Is it right for me?
Breast lift surgery is a highly individualized procedure and you should do it for yourself, not to fulfill someone else's desires or to try to fit any sort of ideal image.
A Breast Lift may be a good option for you if:
You are physically healthy and maintain a stable weight
You do not smoke
You have realistic expectations
You are bothered by the feeling that your breasts sag, have lost shape and volume
Your breasts have a flatter, elongated shape or are pendulous
When unsupported, your nipples fall below the breast crease
Your nipples and areolas point downward
You have stretched skin and enlarged areolas
One breast is lower than the other
Choose a surgeon you can trust
Plastic surgery involves many choices. The first and most important is selecting a surgeon you can trust.
Choosing an ensures that you have selected a physician who:
Has completed at least five years of surgical training with a minimum of two years in plastic surgery.
Is trained and experienced in all plastic surgery procedures, including breast, body, face and reconstruction.
Operates only in accredited medical facilities.
Adheres to a strict code of ethics.
Fulfills continuing medical education requirements, including standards and innovations in patient safety.
Is board certified by The American Board of Plastic Surgery or in Canada by the Royal College of Physicians and Surgeons of Canada®.
ASPS Member Surgeons are your partners in cosmetic and reconstructive plastic surgery.
---
Back to top
Before & After Photos of Breast Lift (Mastopexy)
Contact WAVE Cosmetic & Reconstructive Plastic Surgery Center
| | | | | | |
| --- | --- | --- | --- | --- | --- |
| | | | | | |