Breast Reconstruction by Wave Plastic Surgery & Aesthetic Laser Center
---
Rippling(when irregularities of the implant surface are felt or seen through the skin). This may develop as a result of a thinning of the tissue covering the implants or from an implant that is under filled or leaking. This problem can simply be fixed by overfilling the existing implant through a small incision and the areola.
Capsular contracture(when the body forms a thick scar around the implant(s). This may occur on one or both sides and may cause a shape change, discomfort, and may cause the breast to feel more firm. There are several ways of approaching this problem and one of them is to remove the entire capsule surrounding the implant. Sometimes, it could be combined with moving implants into a totally different pocket, or even exchanging into new implants may also help. However, removing implants may be necessary for those who have a tendency of recurrence.
+

Breast Reconstruction procedure steps
Step 1 - Anesthesia
Medications are administered for your comfort during the surgical procedure. The choices include intravenous sedation and general anesthesia. Your doctor will recommend the best choice for you.
Step 2 - Flap techniques reposition a woman's own muscle, fat and skin to create or cover the breast mound.
Sometimes a mastectomy or radiation therapy will leave insufficient tissue on the chest wall to cover and support a breast implant. The use of a breast implant for reconstruction almost always requires either a flap technique or tissue expansion.
A TRAM flap uses donor muscle, fat and skin from a woman's abdomen to reconstruct the breast. The flap may either remain attached to the original blood supply and be tunneled up through the chest wall, or be completely detached, and formed into a breast mound.
Alternatively, your surgeon may choose the DIEP or SGAP flap techniques which do not use muscle but transport tissue to the chest from the abdomen or buttock.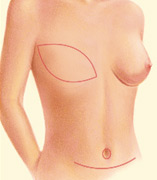 A latissimus dorsi flap uses muscle, fat and skin from the back tunneled to the mastectomy site and remains attached to its donor site, leaving blood supply intact.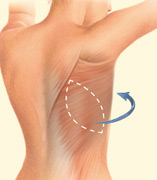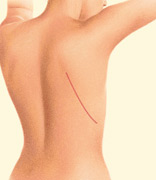 Occasionally, the flap can reconstruct a complete breast mound, but often provides the muscle and tissue necessary to cover and support a breast implant.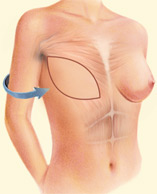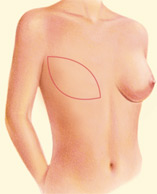 Step 3 - Tissue expansion stretches healthy skin to provide coverage for a breast implant.
Reconstruction with tissue expansion allows an easier recovery than flap procedures, but it is a more lengthy reconstruction process.
It requires many office visits over 4-6 months after placement of the expander to slowly fill the device through an internal valve to expand the skin.
A second surgical procedure will be needed to replace the expander if it is not designed to serve as a permanent implant.
Step 4 - Surgical placement of a breast implant creates a breast mound.
A breast implant can be an addition or alternative to flap techniques. Saline and silicone implants are available for reconstruction.
Your surgeon will help you decide what is best for you. Reconstruction with an implant alone usually requires tissue expansion.
Step 5 - Grafting and other specialized techniques create a nipple and areola.
Breast reconstruction is completed through a variety of techniques that reconstruct the nipple and areola
Information & images are courtesy of ASPS®
+

More from American Society of Plastic Surgeons
What is Breast Reconstruction?
Breast reconstruction is achieved through several plastic surgery techniques that attempt to restore a breast to near normal shape, appearance and size following mastectomy.
Although breast reconstruction can rebuild your breast, the results are highly variable:
A reconstructed breast will not have the same sensation and feel as the breast it replaces.
Visible incision lines will always be present on the breast, whether from reconstruction or mastectomy.
Certain surgical techniques will leave incision lines at the donor site, commonly located in less exposed areas of the body such as the back, abdomen or buttocks.
A note about symmetry: If only one breast is affected, it alone may be reconstructed. In addition, a breast lift, breast reduction or breast augmentation may be recommended for the opposite breast to improve symmetry of the size and position of both breasts.
Enhancing your appearance with breast reconstruction
Breast reconstruction is a physically and emotionally rewarding procedure for a woman who has lost a breast due to cancer or other condition.
The creation of a new breast can dramatically improve your self-image, self-confidence and quality of life. Although surgery can give you a relatively natural-looking breast, a reconstructed breast will never look or feel exactly the same as the breast that was removed.
Is it right for me?
Breast reconstruction is a highly individualized procedure. You should do it for yourself, not to fulfill someone else's desires or to try to fit any sort of ideal image.
Breast reconstruction is a good option for you if:
You are able to cope well with your diagnosis and treatment
You do not have additional medical conditions or other illnesses that may impair healing
You have a positive outlook and realistic goals for restoring your breast and body image
Choose a surgeon you can trust
Plastic surgery involves many choices. The first and most important is selecting a surgeon you can trust.
Choosing an ensures that you have selected a physician who:
Has completed at least five years of surgical training with a minimum of two years in plastic surgery.
Is trained and experienced in all plastic surgery procedures, including breast, body, face and reconstruction.
Operates only in accredited medical facilities.
Adheres to a strict code of ethics.
Fulfills continuing medical education requirements, including standards and innovations in patient safety.
Is board certified by The American Board of Plastic Surgery or in Canada by the Royal College of Physicians and Surgeons of Canada®.
ASPS Member Surgeons are your partners in cosmetic and reconstructive plastic surgery.
---
Back to top
Before & After Photos of Breast Reconstruction
PHOTOS COMING SOON!
Contact WAVE Cosmetic & Reconstructive Plastic Surgery Center
| | | | | | |
| --- | --- | --- | --- | --- | --- |
| | | | | | |