Breast Reduction (Reduction Mammaplasty) by Wave Plastic Surgery & Aesthetic Laser Center
---
The discomfort of heavy breasts associated with pain in the back, neck, and shoulder area can be relieved by breast reduction. Large breasts can make a woman not only uncomfortable but also self-conscious.
Many women find that clothes and brassieres don't fit properly. Breast reduction surgery involves removing fatty and breast tissue along with excess skin. Typically, this involves making the areola smaller or removing some of the pigmented skin around the nipple. In addition, breast reductions include a breast lift or mastopexy. We perform different types of breast reduction procedures.
Many of our patients are candidates for the newer vertical reduction. This minimizes the amount of scarring and provides a more projected, youthful shape. Patients that have very large breasts or significant amounts of drooping will likely need a more traditional method of reduction. Breast reduction and lift procedures are performed on an outpatient basis. This means that you go home the same day as the surgery. Most people can return to work in about a week. Dissolving sutures placed under the skin help make the recovery period easier on you. A pain pump is available for the procedures which makes the recovery much easier.
+

Breast Reduction procedure steps
Breast reduction surgery is usually performed through incisions on your breasts with surgical removal of the excess fat, glandular tissue and skin.
In some cases, excess fat may be removed through liposuction in conjunction with the excision techniques described below. If breast size is largely due to fatty tissue and excess skin is not a factor, liposuction alone may be used in the procedure for breast reduction.
The technique used to reduce the size of your breasts will be determined by your individual condition, breast composition, amount of reduction desired, your personal preferences and the surgeon's advice.
Step 1 - Anesthesia
Medications are administered for your comfort during breast reduction surgery. The choices include intravenous sedation and general anesthesia. Your doctor will recommend the best choice for you.
Step 2 - The incision
Incision options include:
A circular pattern around the areola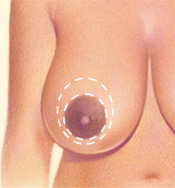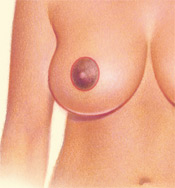 The incision lines that remain are visible and permanent scars, although usually well concealed beneath a swimsuit or bra.
A keyhole or racquet-shaped pattern with an incision around the areola and vertically down to the breast crease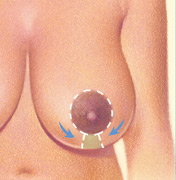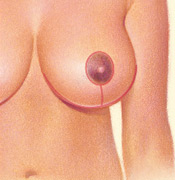 An inverted T or anchor-shaped incision pattern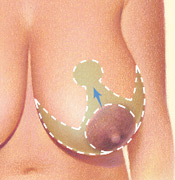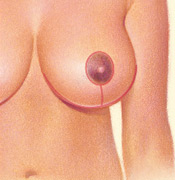 Step 3 - Removing tissue and repositioning
After the incision is made, the nipple (which remains tethered to its original blood and nerve supply) is then repositioned. The areola is reduced by excising skin at the perimeter, if necessary. Underlying breast tissue is reduced, lifted and shaped. Occasionally, for extremely large pendulous breasts, the nipple and areola may need to be removed and transplanted to a higher position on the breast (free nipple graft).
Step 4 - Closing the incisions
The incisions are brought together to reshape the now smaller breast. Sutures are layered deep within the breast tissue to create and support the newly shaped breasts; sutures, skin adhesives and/or surgical tape close the skin. Incision lines are permanent, but in most cases will fade and significantly improve over time.
Step 5 - See the results
The results of your breast reduction surgery are immediately visible. Over time, post-surgical swelling will resolve and incision lines will fade. Satisfaction with your new image should continue to grow as you recover.
Information & images are courtesy of ASPS®
+

More from American Society of Plastic Surgeons
What is Breast Reduction?
Also known as reduction mammaplasty, breast reduction surgery removes excess breast fat, glandular tissue and skin to achieve a breast size in proportion with your body and to alleviate the discomfort associated with overly large breasts.
Enhancing your appearance with breast reduction surgery
Overly large breasts can cause some women to have both health and emotional problems. In addition to self image issues, you may also experience physical pain and discomfort.
The weight of excess breast tissue can impair your ability to lead an active life. The emotional discomfort and self-consciousness often associated with having large pendulous breasts is as important an issue to many women as the physical discomfort and pain.
Also known as reduction mammaplasty, breast reduction surgery removes excess breast fat, glandular tissue and skin to achieve a breast size in proportion with your body and to alleviate the discomfort associated with overly large breasts.
Is it right for me?
Breast reduction surgery is a highly individualized procedure and you should do it for yourself, not to fulfill someone else's desires or to try to fit any sort of ideal image.
Breast Reduction may be a good option for you if:
You are physically healthy
You have realistic expectations
You don't smoke
You are bothered by the feeling that your breasts are too large
Your breasts limit your physical activity
You experience back, neck and shoulder pain caused by the weight of your breasts
You have regular indentations from bra straps that support heavy, pendulous breasts
You have skin irritation beneath the breast crease
Your breasts hang low and have stretched skin
Your nipples rest below the breast crease when your breasts are unsupported
You have enlarged areolas caused by stretched skin
Choose a surgeon you can trust
Plastic surgery involves many choices. The first and most important is selecting a surgeon you can trust.
Choosing an ensures that you have selected a physician who:
Has completed at least five years of surgical training with a minimum of two years in plastic surgery.
Is trained and experienced in all plastic surgery procedures, including breast, body, face and reconstruction.
Operates only in accredited medical facilities.
Adheres to a strict code of ethics.
Fulfills continuing medical education requirements, including standards and innovations in patient safety.
Is board certified by The American Board of Plastic Surgery or in Canada by the Royal College of Physicians and Surgeons of Canada®.
ASPS Member Surgeons are your partners in cosmetic and reconstructive plastic surgery.
---
Back to top
Before & After Photos of Breast Reduction (Reduction Mammaplasty)
PHOTOS COMING SOON!
Contact WAVE Cosmetic & Reconstructive Plastic Surgery Center
| | | | | | |
| --- | --- | --- | --- | --- | --- |
| | | | | | |