Male Breast Reduction (Gynecomastia) by Wave Plastic Surgery & Aesthetic Laser Center
---
Gynecomastia is the growth of abnormally large breasts in males. It is due to the excess growth of breast tissue, not excess fat tissue.
Gynecomastia is swelling of the breast tissue in boys or men, caused by an imbalance of the hormones estrogen and testosterone. Gynecomastia can affect one or both breasts, sometimes unevenly. Newborns, boys going through puberty and older men may develop Gynecomastia as a result of normal changes in hormone levels, though other causes also exist.
The causes of common Gynecomastia remain uncertain, although it has generally been attributed to high levels of sex hormone-binding globulin (SHBG) resulting in low levels of free testosterone or the tissue responsiveness to them; a root cause is rarely determined for individual cases.
Surgical excision of the breast gland is paramount and results in a permanent and consistently reliable outcome. When excision is not performed the recurrence rate may be as high as 35%. This procedure has the best outcome when performed by a plastic surgeon who has a significant experience performing Gynecomastia surgery. When done correctly recurrence is rare. Medication is hardly effective for mature Gynecomastia, that is larger than 1 inch in diameter, or in existence for longer than six months. Liposuction does not remove the breast gland and instead is used to remove the surrounding adipose tissue.
No Hidden Cost!


At most of the clinics/hospitals, they would tell you the basic cost with lots of hidden costs when you inquire the cost of Male Breast Reduction (Gynecomastia). We do NOT charge additional fees like other Plastic Surgery clinics/hospitals such as "Anesthesia fee", "Operating Room fee", "Hospital fee", "Recovery Room fee", "Follow-up Treatments fee", etc. It's ALL-INCLUSIVE at Wave Plastic Surgery & Aesthetic Laser Center.


Contact us for a FREE consultation with one of our Board Certified Plastic Surgeons.
+

What is breast reduction for men?
What is breast reduction for men?
Also known as gynecomastia, breast reduction for men is the surgical correction of over-developed or enlarged breasts in men.
The condition of over-developed or enlarged breasts in men, is common in men of any age. It can be the result of hormonal changes, heredity conditions, disease or the use of certain drugs.
Gynecomastia can cause emotional discomfort and impair your self confidence. Some men may even avoid certain physical activities and intimacy simply to hide their condition.
Gynecomastia is characterized by:
Excess localized fat
Excess glandular tissue development
A combination of both excess fat and glandular tissue
Gynecomastia may be present unilaterally (one breast) or bilaterally (both breasts)
Gynecomastia surgery is a good option for you if:

You are physically healthy and of relatively normal weight
You have realistic expectations
A combination of both excess fat and glandular tissue
Gynecomastia may be present unilaterally (one breast) or bilaterally (both breasts)

Adolescents may benefit from surgery, although secondary procedures may be needed in the future should breast development continue.

Male breast reduction surgery is best performed on:

Men whose condition cannot be corrected through alternative medical treatments
Healthy individuals who do not have a life-threatening illness or medical conditions that can impair healing
Non-smokers and non-drug users
Men with a positive outlook and specific goals in mind for improving the physical symptoms of gynecomastia

Breast reduction for men is a highly individualized procedure and you should do it for yourself, not to fulfill someone else's desires or to try to fit any sort of ideal image.

Information & images are courtesy of ASPS®
+

Male Breast Reduction procedure steps
What happens during gynecomastia correction surgery?
Plastic surgery to correct gynecomastia is technically called reduction mammaplasty, and reduces breast size, flattening and enhancing the chest contours.
In severe cases of gynecomastia, the weight of excess breast tissue may cause the breasts to sag and stretch the areola (the dark skin surrounding the nipple). In these cases the position and size of the areola can be surgically improved and excess skin may be reduced.
Anesthesia
Medications are administered for your comfort during the surgical procedure. The choices include intravenous sedation and general anesthesia. Your doctor will recommend the best choice for you.
Liposuction
In cases where gynecomastia is primarily the result of excess fatty tissue, liposuction techniques alone may be used.
This requires insertion of a cannula, a thin hollow tube, through several small incisions. The cannula is moved back and forth in a controlled motion to loosen the excess fat, which is then removed from the body by vacuum suction.
There are various liposuction techniques that may be used; the technique most appropriate in your case will be defined prior to your procedure.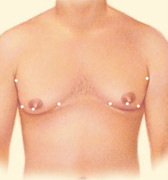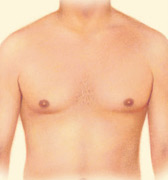 Excision

Excision techniques are recommended where glandular breast tissue or excess skin must be removed to correct gynecomastia.

Excision also is necessary if the areola will be reduced, or the nipple repositioned to a more natural male contour. Incision patterns vary depending on the specific conditions and surgical preference.


Sometimes gynecomastia is treated with both liposuction and excision.

Will there be scars?

Any surgical treatment to correct gynecomastia will require incisions. While most incision lines are concealed within natural contours, some may be visible and are a necessary result of breast reduction surgery.

Information & images are courtesy of ASPS®
+

More from American Society of Plastic Surgeons
Choose a surgeon you can trust
Plastic surgery involves many choices. The first and most important is selecting a surgeon you can trust.
Choosing an ensures that you have selected a physician who:
Has completed at least five years of surgical training with a minimum of two years in plastic surgery.
Is trained and experienced in all plastic surgery procedures, including breast, body, face and reconstruction.
Operates only in accredited medical facilities.
Adheres to a strict code of ethics.
Fulfills continuing medical education requirements, including standards and innovations in patient safety.
Is board certified by The American Board of Plastic Surgery or in Canada by the Royal College of Physicians and Surgeons of Canada®.
ASPS Member Surgeons are your partners in cosmetic and reconstructive plastic surgery.
---
Back to top
Before & After Photos of Male Breast Reduction (Gynecomastia)

PHOTOS COMING SOON~
Contact WAVE Cosmetic & Reconstructive Plastic Surgery Center
| | | | | | |
| --- | --- | --- | --- | --- | --- |
| | | | | | |