Chin Augmentation (Mentoplasty) by Wave Plastic Surgery & Aesthetic Laser Center
---
Chin Augmentation Chin Reduction
There are many techniques and materials used to augment the chin. The most common technique is an intra oral approach to avoid any visible scars and the most common material used is a silicone implant. When it comes to improving the aesthetic appearance of the face, the chin implant can be a very powerful tool.
Chin augmentation can affect the contour of the face and also bring balance to the face by making the chin more proportionate to the rest of the facial features. This procedure is often combined with rhinoplasty as an appropriately sized chin can balance out the strength of the nose. Chin augmentation may also be combined with other facial surgery to rejuvenate the face and obtain facial symmetry and harmony.
A successful Chin Augmentation surgery can enhance your appearance as well as your self-esteem.
33% OFF on Chin Augmentation (Mentoplasty)
Limited time offer.
+

Chin Augmentation procedure steps
Step 1 – Anesthesia
Medications are administered for your comfort during the surgical procedures. The choices include intravenous sedation and general anesthesia. Your doctor will recommend the best choice for you.
Step 2 – The incision
The chin: For a chin implant, the incision may be inside your mouth, along the crease that joins your lower lip and gums. An incision just beneath the chin is an alternative.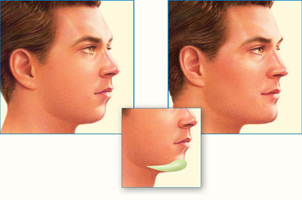 Step 3 – Closing the incisions
Your incisions will be closed with absorbable sutures or stitches that will be removed within 1-2 weeks following your surgery.
Step 4 – See the results
While the initial outcome of plastic surgery with Chin implants is noticeable almost immediately, it will be obscured by visible swelling. It may take several months for swelling to fully dissipate.
+

More from American Society of Plastic Surgeons
Chin surgery, also known as mentoplasty, is a surgical procedure to reshape the chin either by enhancement with an implant or reduction surgery on the bone. Many times a plastic surgeon may recommend chin surgery to a patient having nose surgery in order to achieve facial proportion, as the size of the chin may magnify or minimize the perceived size of the nose. Chin surgery helps provide a harmonious balance to your facial features so that you feel better about the way you look.
Chin Augmentation surgery is a good option for you if:
You are physically healthy
You do not smoke
You have a positive outlook and specific, but realistic goals in mind for the improvement of your appearance
Choose a surgeon you can trust
Plastic surgery involves many choices. The first and most important is selecting a surgeon you can trust.
Choosing an ensures that you have selected a physician who:
Has completed at least five years of surgical training with a minimum of two years in plastic surgery.
Is trained and experienced in all plastic surgery procedures, including breast, body, face and reconstruction.
Operates only in accredited medical facilities.
Adheres to a strict code of ethics.
Fulfills continuing medical education requirements, including standards and innovations in patient safety.
Is board certified by The American Board of Plastic Surgery or in Canada by the Royal College of Physicians and Surgeons of Canada®.
Questions to ask my plastic surgeon:
Are you certified by the American Board of Plastic Surgery?
Were you trained specifically in the field of plastic surgery?
How many years of plastic surgery training have you had?
Is the office-based surgical facility accredited by a nationally or state recognized accrediting agency?
Am I a good candidate for this procedure?
ASPS Member Surgeons are your partners in cosmetic and reconstructive plastic surgery.
Dr. Peter G. Lee has over 14 years of experience as a world-renowned plastic surgeon and successfully performed over 20,000 Cosmetic & Reconstructive Plastic surgeries and that's just in US.
---
Back to top
Before & After Photos of Chin Augmentation (Mentoplasty)
Contact us | Chin Augmentation (Mentoplasty)
---
---